​​
Two dating guides are written for those trying to approximate the manufacture date of their vintage Gretsch and Ludwig drums, but are confused and frustrated by the information that is available on the interwebs, much of which is conflicting or incorrect.
Serial number-based dating and authentication guides are available for Gretsch, Ludwig and Ludwig Standard drums. Because the approach is serial number based, it only applies to Gretsch drums with serial numbers starting in about 1962, Ludwig main line drums with serial numbers starting in late 1963. Ludwig Standards made starting in about 1968 through about 1973 are also addressed (Ludwig reused the "Standard" brand a few times). Because the focus is on vintage drums, the guides do not generally address drums made after the mid-1980s.
The guides present information based upon data gathered from thousands of vintage drums. They are based upon volumes of information taken from actual drums and refrain from repeating the legend and lore of vintage drums, which is often inaccurate and not based upon reality. The guides teach the reader about changes in the physical characteristics of these drums which will help them to determine if a drum is authentic or just a collection of mismatched parts.
​Click on the links below or the tabs above to learn more:
Gretsch Drum Guide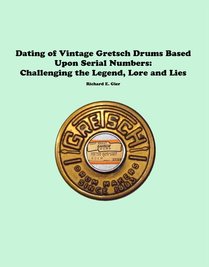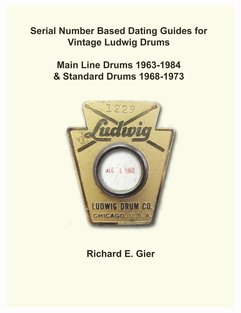 If you have purchased one or both of the guides and want to keep up with revisions and news, click this link.
​Papers and Articles researching vintage drums are available for your reading.
Important Comment about Copyright Infringement:
I encourage vintage drum enthusiasts to share their knowledge with others who share similar interests. I myself am active on internet forums and Facebook and happy to share information. I answer many emails each week asking about vintage drums. I wrote my two dating guides to better share some information and improve the general level of knowledge level about vintage drums. However, sometimes people go too far. On several recent occasions I have found materials taken from my books and displayed without permission on online forums (particularly Facebook) discussing vintage drums. Most often people have taken photographs, scans or photocopies of pages from my books and posted them without permission. This infringes my copyrights. It is not permitted under the Fair Use Doctrine in the U.S. Copyright Act nor is it permitted under the Fair Dealing Doctrine under International Copyright Law.
(Posts to a Facebook Group do not constitute instruction provided by an educational institution, and it certainly is not scholarly work, research or a library.)
It is actually theft of my intellectual property.
This is much like a recording artist releasing music and then discovering that it has been shared without permission and without payment. If you buy my guide, you own that copy of it. You are free to read it and discuss it with anyone, but you are not permitted to make copies and distribute them, for free or for profit. This is a core principle of copyright protection. Most people know this. I have a lot of experience with copyrights and intellectual property law, both as an author and from working as a representative of several creative people. If you don't believe me, please educate yourself on the topic by going to
www.uscopyright.gov
and searching for information. I have not posted copies of my books online, preferring to publish only in a paper format. Therefore, if you see pages or tables online, they are not authorized. I have placed certain papers online in this website, but indicate that they should not be copied and shared.
When I encounter infringement of my works, I generally have success getting material removed from Facebook and forums by contacting the poster and the administrators and reporting the violations. Most people say that they love my guides and just wanted to share them with more people. Once I explain that their actions are copyright infringement and cause me harm, they are generally apologetic and quick to delete the posts. However, I have also gotten a lot of resistance from people with skewed understanding of copyright law. I have been called names, been told that because it is Facebook, they can post anything they want, and had people argue that because they did not make a profit or only posted a few pages it was OK. It is frustrating as an author who spent several years and hundreds of hours researching and writing my guides to have them stolen and my rights disregarded. The current internet environment includes an incorrect expectation by many of unlimited free access to all information. This is at odds with intellectual property laws designed to encourage authors and artists to create by protecting their ownership in their creations.
So please do not copy tables, charts or pages from my guides and let me know if you see anyone doing it so that I can take appropriate action. Thanks.
​
​Requests for Date Estimates:
​Please do not just email me a serial number and demand that I tell you how old it is. First of all, that is rude. Second, as fully discussed in the dating guide, there is much more to it than that. Third, it takes time to answer each request. The dating guides were written to provide tools to assist the drum owner to figure it out for themselves. If you just want an answer in order to sell the drum on eBay or Craigslist, I suggest that you simply provide pictures of the drums, paper labels, badges and other information in your listing and let your buyer determine how old it is. Let the drum speak for itself. If you fill out and submit information about your drums via the
Report Your Drums
page, I will try to help you to estimate the date of manufacture of your drums. Please do not then take this estimate and put in your eBay listing that you drum has been "evaluated by Gretsch expert Richard Gier" and he determined the exact moment your drum was made. Finally, I strongly recommend both
www.drumforum.org
and
www.vintagedrumforum.com
as great sites to learn about vintage drums. They both are actively supported by great people who are happy to share what they know. Spend some time searching their old posts - you will probably get your questions answered with a little work on your part.